as you want it – the improvised movie night
In their home cinema, Tony has all the films that have ever been made – in fact, they have every film you could possibly ever imagine. Every night will have a new film be made up right in front of the audience's eyes, based on their suggestions. They script written at the same time the lines are said, music composed at the same time it is being played, lights programmed at the same time they are being employed.
Guiding us through the film is Tony, remote control in hand, skipping forwards or backwards, introducing flashbacks, songs or slow motions, and providing insightful commentary on the actor's and director's choices we see before us.
We hope to see many of you at auditions and/or as crew! As always, there are no preparations needed for the auditions.
The show dates will be between the 16th and 28th of January 2023.
You would like to be part of our current crew? Then send us an email!
Wanna know more about us? Check out some interviews with cast and crew during our last production "a murder at the inn"
Curtain Up! – The travelers enter the inn
At the end, hopefully everything is ready for the actors to conquer the stage. But apart from playing a role, what do they feel for their role when you ask themselves? Therefore Kris, Jonas, Xavier and Aaron answer some of our questions.
Which role do you play?
Aaron: I play the jock
Kris: I play the Local, his name is Jo.
Xavier: I am the ghost.
Jonas: I play James Manuel Peterson, the director i.e., the real director of the play
Which characteristics of your role are for you the most challenging to play and why?
Xavier: To be honest, as a first time actor it has been a general challenge playing somebody other than myself.
Kris: The most challenging is the balance between honest worry and angst in a certain situation and the drunken mess that this situation turns into.
Jonas: For me the most challenging part of my role is the accent. I'm aiming on doing a New Yorker accent because my character is a New Yorker.
Aaron: The jock's personality is basically the complete opposite of mine, and especially his masculinity is very different from my own. It's very fun to play up the machismo, but also something I'm not used to at all. The body language is probably the most challenging thing about that since mine is generally much looser and I really have to tighten it up for this role.
Xavier: The most difficult has probably been to maintain a healthy balance between being static and mobile while lurking in the background.
Jonas: It is difficult to pretend that this is my play and the people screw up for real and ruin my self-written play entirely. It is somewhat between acting and not acting, it's complicated.
Can you relate to your character? How?
Aaron: I have to find little ways to relate to any character I play in order to play them! That being said, that is definitely a challenge with this one.
Jonas: Well, somehow of course… If someone would screw up my whole production at premiere night I would be furious… However, I would trust my actors to handle the situation instead of jumping up and yelling at them. I guess, I would have done a better casting for my actors.
Aaron: I think I relate to his self-centeredness a little bit, though not to the point where I'd be thinking about my skiing competition when someone was just murdered.
Xavier: I can somewhat relate to the character being quiet and reflective, but I (hope I) am a much nicer person!
Kris: I can relate to their dedication to Gin and Tonic on a night where even the power has no power.
What is your favourite part of the rehearsal process?
Kris: My favourite part is leaning into a new character and letting it lead to a new physicality and speech pattern.
Aaron: My favourite part of the rehearsal process is when all the blocking and line-learning is largely done, and I get to build on that solid foundation and add little embellishments to my acting!
Jonas: I love rehearsals when we do one part of a scene repeatedly again. Then I can try new things every time and slowly get into my character!
Kris: I also like bantering with colleges and finding out what works and what does not.
Xavier: My favourite part of the rehearsal process is the advice given by some more established actors – they are incredible to watch and I have learnt so much from them.
behind the secret doors of the inn – an interview with levke steinert
Not only on stage, but also off, there is a lot of work to do. A whole inn has to be designed and built, the cast members have to be equipped with costumes and possible murder weapons, and spotlights have to be installed to enlighten stage and cast. During this process, there are also always people who care for the advertisement of the play by shooting pictures, designing posters, and telling everybody about the current UP project. And of course, there are the people who sell the tickets and the beverages or manage the stage during the performances.
Usually responsible for the stage, this year Levke also coordinates the project as a whole, and therefore also everybody working backstage. Let us listen to her impressions about this kind of work.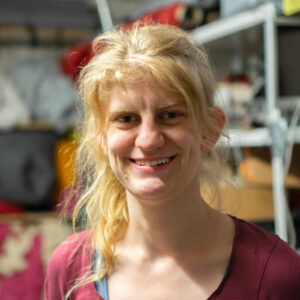 What are your expectations concerning the first UP project after Covid-19?
The first production is gonna be tough. People are not used to spending all their free time here anymore and we have lost our routine. But I also expect that people will be quite enthusiastic about having a production again.
Where do you get the inspiration for building the stage from?
I don't have a particular place where I get my inspiration from. I usually take the rough shape, wanted from the director and combine it with the functions it needs and then start thinking about how the construction underneath could work. I'll usually prefer to leave the outer design part to people with more painting skills than myself.
What is your favourite part of a UP project process?
My favourite part is always the day when, within a couple of hours, we transform the Audimax from a lecture hall into a stage, into a theatre. It is exhausting and a lot of work, but making the place our own for our what feels a bit like a secret society, makes me feel very at home there.
how to start a murder – an interview with jenny day
Finally, after a long break due to the pandemic, the University Players have resumed their activity and the Audimax is again filled with cast, stage builders, and make-up artists. Besides the impressive effort, every member of the project puts into the actual play "a murder at the inn", it is also noteworthy that the screenplay itself was written by University Player Jenny Day. Let us listen to her own comments about this semester's production.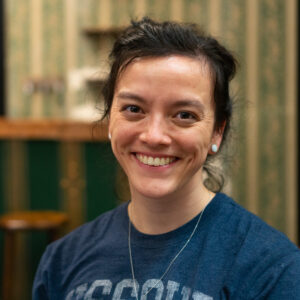 How did you get the idea for the play?
I've always loved a good murder mystery. The idea for the play was to bring a classic, Agatha Christie style story to the modern day. I got inspired to write about a Colorado inn after a ski trip I took there with my family years ago.
How long did it take you to write the play?
I'm a busy working mom, so I could only work on the play at night when the children were asleep. It took me about three months to finish and edit the play.
How does it feel to see the actors*actresses play your own work?
Seeing my words and thoughts come to life is absolutely amazing, but also terrifying. It's both a powerful, but also vulnerable thing, to see cast members interpret what I've written.
What is your favourite scene?
My favourite scene is one that would spoil the whole play! I wouldn't dare tell you until you've seen it!
What is the most challenging part of the rehearsal process?
I am new to directing, so it's all been a challenge! But I don't really see that as a bad thing. I've been learning on the fly, and so far, I'm very pleased with our accomplishments.
What part of the project is the most important for you?
What's important to me is that we put on a production that is a fun, immersive escape for ourselves, and our audience.